I am a self-taught hobby gardener. I also felt inspired to go in this direction as it ties in very well with my cookery business…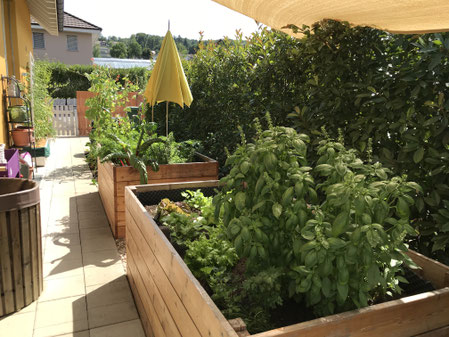 I have NO prior knowledge or experience in any sort of gardening in the past. I have never seen my parents or my friends do any gardening. Gardeners were hired to do the job. Not even a potted plant or a herb. Only after I moved to Switzerland, I started buying indoor plants and window-sill herbs. Then some dabbling in growing tomato and zucchini in pots in our very first tiny garden.
Just 3 years ago, after moving in to our house, I started to, step by step, work my way towards a small vegetable garden. Discovered free gardening courses at a nearby garden center, gathering tips and tricks. Buying soil, compost, seeds, seedlings, googling and asking lots of questions along the way. Nature is an amazing thing. At first, for my self-confidence, I bought seedlings (setzlingen) from Landi, which I potted and then planted in my raised beds (Hochbeet). After this experience, I bought seeds. Throw in a seed, water, fertilize and follow some basic instructions, viola, few weeks later a tiny plant peeps through the soil! Sooo thrilling to watch this tiny seedling grow into a large plant bearing vegetables, right in front of my eyes. This bold venture has also helped me to understand seasonal vegetables. A hands-on experience, learning by doing, is absolutely invaluable.
What a fantastic opportunity in a small space to be able to experiment, learn, make mistakes and when it doesn't work the first time, try again, and finally the reward in eating what I grow! It continues to amazes me! Photos of my 2 years of bounty speak louder than words …do you recognize some or most of them, maybe you have grown them yourselves, if never, then what's stopping you especially now in our current lock down situation…go for it, just do it…like me you will be hooked, haha…