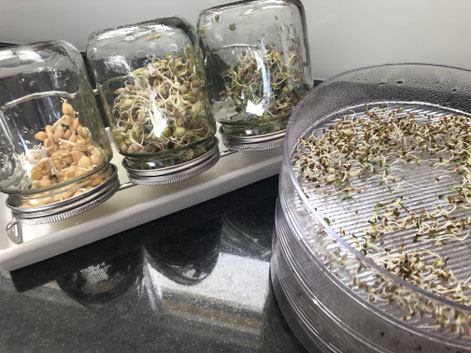 "I am so sprout of you, honey"...hee hee, my husband said after we ate my first ever homegrown sprouts. Sprouts are usually from seeds, grains, beans and lentils, like mung, lentils, alpha alpha, onion seeds, rucola, coriander. I DID IT. Growing up in a Gujarathi household, sprouts were a common ingredient in our diets, typically used in salads, various chaats or snack, like panipuri, chaatpuri, bhelpuri, roti, daal, rice, etc. I never gave it another thought. Fast forward 20 years in Switzerland. It's sold here in small 20g packets for chf 2.40! Also sold as a superfood and treated like micro greens. It took on a celebrity status after celebrity cooks started using it as a fancy garnish on well-dressed plates of food. In India it is a normal everyday ingredient. A small handful of instant rich vitamins and minerals.
Easy sprout salad
Ingredients:
1 cup homemade mixed sprouts (incl. mung bean and lentils),
1 small onion
1 small tomato
¼ cucumber
1 small carrot
2 tbsps each coriander (or celery) and mint leaves
1 tbsp lemon juice
Honey to taste
¼ tsp chaat masala (from my web-shop) or cumin powder
½ tsp grated fresh ginger or powder
Salt and pepper
Optional: 1 tbsp freshly grated coconut
Method:
1.      If the sprouts are store bought, you must wash them before use.
2.      Peel/wash and chop/dice all the vegetables.
3.      Wash the herbs and finely chop.
4.      In a large bowl mix the sprouts, all the vegetables and herbs (coconut if using).
5.      In a small cup mix the lemon juice, honey, ginger, chaat masala and add to the vegetables, toss. Season. Serve immediately.